[update: 12/30/2019]
"English Mahjong Tournament Vol. 1" was held for the first time in November 2019 in Akihabara, Tokyo, Japan!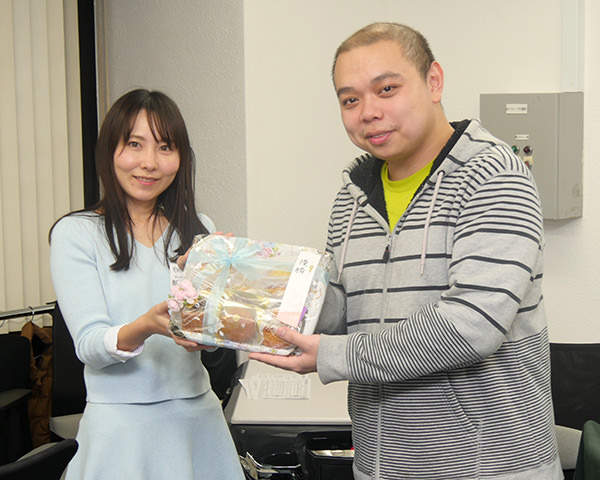 On the left, Ms. Arisa Aragaki, a fluent speaker of English, who is a professional mahjong player and the organizer of this event. On the right, Mr. Chris Liu, the winner of the tournament.
Having been invited by TwiPla based on Twitter, about 20 people joined the match. Four foreigners, including Mr. Chris the winner, participated in the event.
In the beginning of the event, Ms. Aragaki explained the rule in both English and Japanese. Then, the tournament started in the relaxing atmosphere.
During the five rounds of Hanchan, they shared the table with various people
The members sharing each table were changed every five rounds of Hanchan (East and South rounds). So, players could mingle with various people through playing mahjong.
There was a friendly atmosphere during the breaking time. Once the game started, everyone became really serious!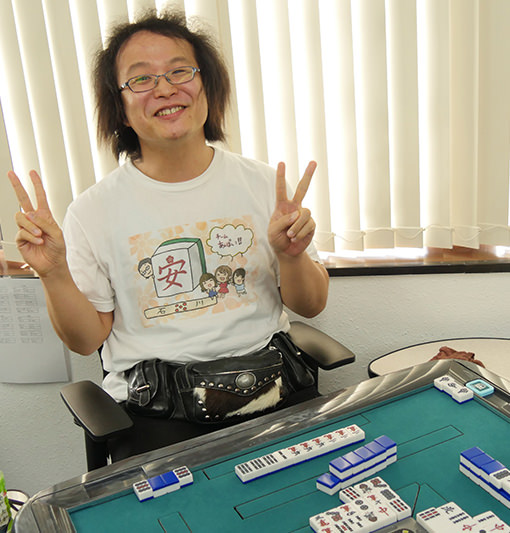 The tournament grew livelier because no less than three Yakuman were realized, including Su Anko (Four Concealed pon).
* The following is the official Twitter account. I strongly recommend that you follow it.
The 1st stage is started !! pic.twitter.com/ASpEsHhmdw

— English Mahjong Tournament official (@EnglishMahjong) 2019年11月16日
Female participants were many! I felt the "level of mahjong" was high as a whole, including amateur participants.
All the participants declared their points in English
This time the mahjong was played in accordance with the WRC (World Riichi Championship) rule.
Reference: WRC official website
In this tournament, even Japanese participants were asked to
"declare their points in English" when they won a game.
(If they did not know what to say, they could be helped by those on the same table.)
For example, if the points were [1300 / 2600], the winner usually has to declare the points of [one thousand three hundred / two thousand six hundred].
But this event adopted the simpler rule to cut off the last two digits, like [thirteen / twenty-six].
I think it was so simple that participants could understand it easily, even if they were not good at English.
*[How to count Honba (Continuance Counter)] If it is one Honba, you have to say, "thirteen / twenty-six is fourteen / twenty-seven."
The Interview with Professional Arisa Arigaki (with footage of her message)
After the tournament finished, I interviewed Ms. Arisa Aragaki, the organizer.
The answers from Ms. Aragaki were written as (*Aragaki) below.
--- You immediately interpreted the English speech of Mr. Chris the winner. Why can you speak English so fluently?
(*Aragaki) After graduating from a high school in Japan, I went to a university in Australia and then worked in the country for about two and a half years. I lived in Australia for seven years in total. Currently, I work as an "interpreter and translator" in a foreign-affiliated firm.
--- I see. I'm impressed you work as an interpreter! Could you tell me the reason why you decided to hold the "English Mahjong Tournament"?
(*Aragaki) I would like foreigners living in Japan to "play mahjong in Japan". Also, I wanted to create a place in which Japanese could enjoy the "communication beyond the borders" through mahjong.
In addition, I hoped it could work as the place to be "international exchange" between Japanese and foreigners, who both were mahjong fans.
--- International exchange is a good aim! What impression do you have about the first tournament, which has just finished?
(*Aragaki) I personally had so much fun! This is the first time and I have found many points that I have to revise for the next event. For example, taking longer time for the final Hanchan. But I'm relieved that participants said They had really a good time.
Moreover, I was really happy that foreign participants talked harmoniously with other foreigners and they became friends.
--- Four foreigners participated in this event today. Are they your acquaintances?
(*Aragaki) No, I knew no one of them. They all saw the notice on my Twitter and participated in it.
--- I agree the influence of the Internet like Twitter is really something. I think there would be people, saying, "Given the next opportunity, I will definitely join it, too!" Is there anything participants have to be careful in the English mahjong, except for "declaring the points"?
(*Aragaki) Even if you cannot declare the points, that would be no problem as long as he or she knows the basic mahjong rules. Basically, pretty much there are no worries as long as others can understand what you mean.
I plan to hold the second tournament in 2020. Any nationalities are welcome even if you only speaks English. Or even who are not good at English, please join it with ease. I can interpret what you say as needed.
Check the following movie message!
YouTube movie message in English (13 seconds)
If you are interested in the next tournament, please follow Ms. Aragaki's Twitter and send a direct message or reply to her.
English mahjong tournament on 16th Nov went pretty well, people seemed to enjoyed it so I might plan a second one in 2020. If you are interested in this event please check my Twitter for updates. I'm looking forward to playing with you:)

— 新垣有紗 (@aragakiarisa222) 2019年12月7日
YouTube movie message in Japanese (33 seconds)
[Impression of the manager (@Jan_Ryu)] International exchange through mahjong is really exciting. Professional Aragaki, the organizer, is so fluent in English that the event became an enjoyable tournament not only for Japanese but also for foreigners.
It would be a chance for you to mingle with various people. If you are interested in it, how about joining the tournament in the next opportunity? The condition is ...
That would not be a problem if you know the mahjong rule
The organizer says so. If you can speak only in English, please join it with ease!
*This is an event to consider the participants. For example, "If you do not want to be photographed, you need not," even when the event is covered like this.
Professional Aragaki also appears on a popular YouTube channel in Japan!